As I look forward to 2012, here's a short list of my PR, social media and technology expectations for the year.
1. Counsel will be king. PR firms wrestle with their responsibilities as new tools and technologies reshape how people communicate. PRSA, the largest association of PR professionals, recently launched a "Public Relations Defined" conversation to modernize the meaning of PR. The review is timely. PR professionals, at their core, are (or should be) strategic counselors. I expect 2012 will see more clients looking for strategic help from PR pros, rather than just tactical support for their media relations, social media and community outreach.
2. "Power to the people." When John Lennon recorded that song in 1971, it became an anthem for a generation opposed to the war in Vietnam. This year's Arab Spring and the Occupy movement pushed Time Magazine to declare The Protestor as its Person of the Year. The biggest difference in today's protests is individual empowerment facilitated by ubiquitous, low-cost communications technologies – cell phones, smart phones, social media, texting, etc. I expect empowered and disgruntled protestors will shake up and redefine politics in 2012.
3. It's a mobile world. Windows we opened a few years ago on our desktop PCs are now with us wherever we go. I expect 2012 will accelerate the obsolescence of desktop computers. I expect one item pushing that accelerator pedal will be Apple's iPad 3. That's the technology toy I want most in 2012, with its rumored high-res screen and Thunderbolt connectivity. (Apple, please release it in March, as rumored. It would be a great way to celebrate St. Patrick's Day.)

4. Apple still leads. Steve Jobs' passing worried Apple fanboys like me, saddened by the loss of such a visionary leader. But I'm convinced part of his leadership is evident in the deep talent pool he built and the company's commitment to the exceptionalism Jobs instilled. I'm expecting to be blown away by at least one Apple announcement next year, in addition to the iPad 3.
5. More video, more places. TV (video) is the emotional heavyweight in communications. It's also the heavyweight in bandwidth consumption and cost. I expect we'll continue to see technology improve delivery and simplify production. Websites, social networks and online demand for video programming will speed acceptance of second screens (computers, smartphones, tablets) as almost interchangeable video platforms.
6. More B2B social networking. Social networking dominates Americans' online time. Employers that previously sought to limit or block workplace access to social networks will increasingly embrace social tools to support internal collaboration, customer relationship management and marketing. Most early adopters have been consumer-facing companies. I expect fast growth next year among business-to-business firms.
7. Authenticity vs. professional polish. There's a dilemma in the digital world. On one hand, many businesses feel uncomfortable or unprepared to produce their own online content. They rely on professionals to help them communicate in blogs and social media. On the other hand, online content produced outside the company can lack the credibility of content produced by the credited author. I expect we'll see more companies seek training and support for internal authors in order to make their digital communications more authentic.
8. The Oregonian on the iPad. There's a lot of speculation about the demise of newspapers. Count me among those saddened by changes in the news business. It's disturbing to see news staffs shrinking. As news media experiment with new delivery platforms, I expect The Oregonian will be among the newspapers developing an app to deliver content to tablet devices like the iPad. I can't imagine NOT starting my day with a print copy of The Oregonian, but I'd still pay to get their newspaper content on my iPhone and iPad.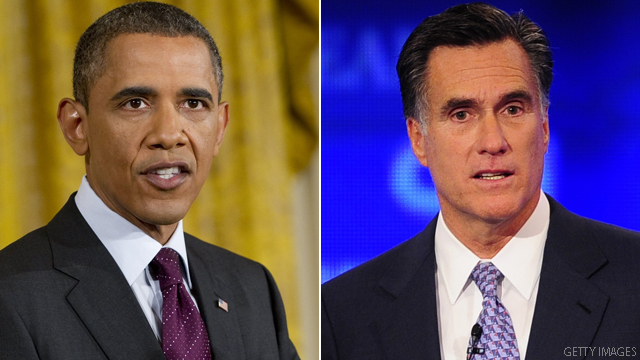 9. Romney vs. Obama. After all the Republican presidential candidate debates, the months of campaigning and the ups and downs in polls, I expect Republicans will nominate Mitt Romney to face off against President Obama next fall. Mr. Speaker, I reserve the right to revise and extend my remarks.
10. Basics continue to matter. With so many shiny new communications toys to explore, it's easier than ever to get caught up tinkering with tactics. But I expect, as the experimentation with new platforms and tools is analyzed, we'll see that communications basics still prevail. Success in public relations will always be rooted in research, targeting to connect with the right audiences, persuasive writing, effective execution and thoughtful evaluation to measure success in achieving goals.
11. More of our lives will be in the clouds. As huge data centers spring up across Oregon (and around the world), it's evident that much of what we consider private is no longer locked up for safe keeping in our homes and offices – or even in our computers and hard drives. We're willingly sharing more about ourselves on social networks, and depending on others to store our music and photo libraries, as well as much of the rest of what we consider personal or proprietary. I expect we'll see even more such sharing in 2012, and we'll hear just as much angst about the erosion of personal privacy.

12. Partisanship will keep Congress paralyzed. There's no joy in this expectation. But watching the chaos in Congress is beyond disappointing. Something serious has poisoned our political process. If elected officials can't resolve it, I expect this year's Occupy protests will pale in comparison to civil unrest we'll see.
Those are my expectations for 2012. On behalf my colleagues and my family, I wish you the best this Holiday season and in the year ahead.
https://www.ampmpr.com/wp-content/uploads/2011/12/Screen-Shot-2015-05-13-at-5.23.33-PM.png
280
720
Pat McCormick
http://www.ampmpr.com/wp-content/uploads/2020/03/AMPMPR-Logo-Black-2018-250px.png
Pat McCormick
2011-12-20 13:49:20
2015-05-14 00:25:24
My 12 expectations for 2012